National Oysters Rockefeller Day!
Oysters Rockefeller by Emeril Lagasse
According to legend, the dish was created as a substitute for baked snails, which were hard to obtain from France. It was named in honor of John D Rockefeller, one of the world's wealthiest, men, due to the suace's intense richness.
Prep Time: 20 minutes
Total Time: 35 to 40 minutes
Yield: 12 appetizers
Ingredients
4 slices bacon, cooked, crumbled
1/4 cup chopped celery leaves
1/4 cup chopped chervil
1/4 cup chopped green onions
1/4 cup chopped parsley
1/4 cup tightly packed leaf spinach
Juice of 2 lemons
Salt and freshly-ground pepper
1 cup bread crumbs
2 tablespoons olive oil
2 tablespoons Creole seasoning
1 tablespoon Pernod (optional)
1 dozen oysters
Rock salt
Directions
In a heavy round ovenproof baking dish spread enough rock salt to make a 1-inch layer. Preheat oven to 375 degrees F.
In a small bowl combine bacon, celery, chervil, green onions, parsley and spinach. Season with salt and pepper and sprinkle with lemon juice and optional Pernod. In another bowl combine bread crumbs with oil and Creole seasoning; season with salt and pepper.
Carefully open oysters and discard top shell. Drain liquid, loosen oyster and remove any grit or sand. Push oyster shells firmly into the rock salt. Top with greens mixture, then with bread crumb mixture. Bake 10 to 15 minutes until bread crumbs are lightly browned. Serve immediately, directly from baking dish.
If You Can't Stand The Heat, Get Out Of The Cellar
September 21, 2017 - Pam Starr
The Napa Valley has recently taken a lot of heat – both literally, due to the serious temperature spike that hit the valley earlier this month, as well as figuratively from those who think the aberrant fluctuation spelled doom for the entire region's harvest. The media has been eager to report this story, which we can all understand – what's sexier than a potential climate change story about America's most recognized wine region? Fortunately for the consumer, cooler heads prevail for those of us on the ground, and I wanted to share the perspective from someone who has been around the vineyard block.
The most important thing to understand is that this weather is unusual but not unprecedented. Every region has tough vintages for various reasons (much of Burgundy and Bordeaux will see almost 40% of their 2017 crop lost due to early season hail). Due to Napa's abundant sunshine, perfect diurnal range, and infrequent hail, we are so used to comparatively near-perfect weather conditions that the wine often can make itself. It's in years like this where we winemakers need to prove our mettle, and be extremely strategic in our vineyard and cellar decisions to ensure the consumer detects no fluctuation in quality.
We would call this a year for the winery versus the vineyard, or "a winemaker's harvest" – it's up to us to shepherd the grapes with care and skills that can really only be learned after a lot of years under the belt, namely, experience. I recall serious heat waves in 1997 and in 2004 (not to mention alternative calamities like the cold rains of 1998 and 2011) and the lessons I learned from them which are being duly applied as I type. Let's not forget that in many circles, that 1997 is now remembered as one of Napa's greatest vintages of all time.

Crocker & Starr Winemaker Pam Starr photo Joe Hendricks

So let's talk technique. The greatest advantage of smaller production winemaking is the level of attention that can be applied to each grape from vineyard to sorting table. In hotter years, the grapes desperately need to be hand sorted, to remove any clusters that have deyhdrated. At Crocker & Starr, for our 20th anniversary in 2016, we invested in a state of the art sorting system which has a gentle destemmer and vibrating sorting table created by Burgsthaler Machine Works. With this invaluable addition, our team is hyper-sorting this year, resulting in a 30% reduction in production, but a finished wine of equal if not superior quality to our best vintages.
We also use a trellis "lyre" system for our 40-year-old Cabernet Sauvignon vines and a modified "Y" system for the newer blocks. These architectures position the shoots so that the berries and soil are protected from the steady afternoon sun and can take the best advantage of the cooling breezes.
Ensuring the grapes don't get parched is also key. Another advantage we have over our old-world counterparts is the ability to irrigate when necessary. This is why we rarely have the outcomes that Europe had with their cripplingly hot 2003 harvest – we can take advantage of work-around measures that are not allowed by law in Europe (often to their detriment, if you ever have a chance to taste some of those wines). A drip-method watering system is used when needed during hot summer days, as well as for establishing new vines. In rare cases, old vines are also given a drink at the end of a dry season to ensure they make it to the next one.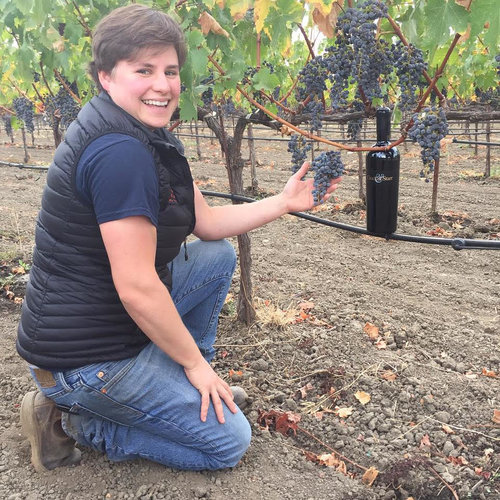 Assistant Winemaker Evyn Cameron poses next to healthy 2017 Crocker & Starr Cabernet Sauvignon photo courtesy Crocker & Starr winery

Finally, our skilled winemaking team takes advantage of all the innovative viticulture practices at our disposal. Harvest should always occur at night so that the grapes arrive cool for destemming. Extraordinary attention is also paid to the health of the vineyard: our team has established a border of wildflowers to harbor good bugs (that will protect the crop), we've planted organic crimson clover for honeybees, and created a buffer zone between the Napa River (where the predatory bugs live) and the vineyard.
Crocker & Starr's wines have enjoyed great critical acclaim over its 21-year history. I personally have made wines in warmer vintages both at here and in my previous winemaker positions - this is the joy and the challenge of producing a fine wine that comes from only one crop in a given year. Some say that wines made in warmer years, are best enjoyed within their first 10 years in the bottle while cooler vintages are meant to age in one's cellar. That may be the case (like with 2003 Bordeaux), but the 1997s are still singing beautifully, 20 years on.