Three Great Cabernets, One Great Estate: A Cabernet lover's dream. This elevated experience will focus on three distinct, estate grown cabernets. For this unique experience, guests will be welcomed on the Farmhouse porch with our estate Cabernet Sauvignon, 'RLC'. Named for the variations of rock, loam and clay soils found throughout the Crocker Estate Vineyard, RLC is the embodiment of Crocker & Starr as a concept. After a stroll in our vineyard and winery, guests will be seated for a tasting of Cabernet Sauvignon 'Stone Place'. Sourced from the oldest vines on the estate, 'Stone Place' is from a 40+-year old block of Cabernet Sauvignon composed of the See clone. To complete the portfolio, guests will finish with our highly sought after, Cabernet Sauvignon 'One Post'. The unique blend of heritage clone vines is sourced from Block 1, and named after the iconic San Francisco street address where Pam and Charlie shook hands and formed their partnership, over 23 years ago.
Approximately 50 minutes, $100 per guest. By appointment only. Book Now.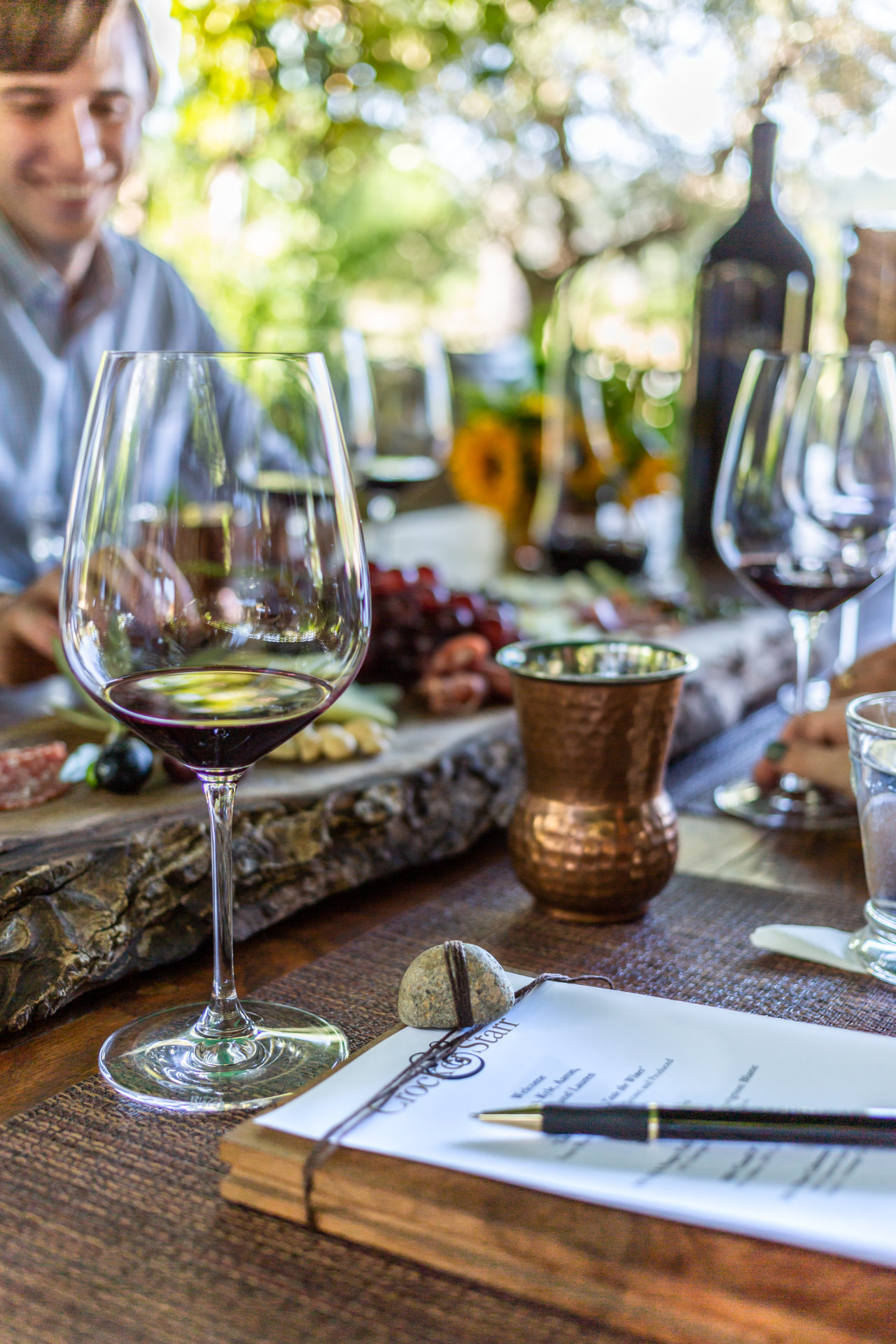 Embark on a sensory journey and discover how wine and food interact during the Al Fresco Experience at Crocker & Starr. Included in this elevated Vineyard Experience is a generous selection of hand-chosen artisanal cheeses and charcuterie sourced from the finest local purveyors. A member of our team will guide guests through each sip and each bite, which are designed to highlight the diverse flavor profiles of the Crocker & Starr wines. Should you wish to book an Al Fresco, please provide at least 48 hours notice.
Approximately 90 minutes, $90 per guest. By appointment, Monday – Friday.
For more information, please call us at the Farmhouse at 707-967-9111 or email reservations@crockerstarr.com.
From the South
Take Highway 29 North towards the town of St. Helena. Before entering downtown St Helena, 1 block past Central Valley Supply, on the east side of the highway, is Dowdell Lane. Turn right on Dowdell Lane and turn left in our driveway located at 700 Dowdell Ln.
Begin your experience on the Historic Farmhouse Porch.
From the North
Take Highway 29 South to the town of St. Helena and take a left of Dowdell Ave. (Look for the high school on the right). Turn left onto Dowdell Lane and turn left into our driveway located at 700 Dowdell Ln.
Make a left onto our driveway, and park in the parking area on the right where you will see other cars.
Begin your experience on the Historic Farmhouse Porch.